Afghanistan – Moral Injury & The Imperative for Unity
Moral Injury
Scott Mann, is a man of many talents. He's accomplished in every area of life. He is a former Green Beret, husband, father, keynote speaker, leadership development coach, a playwright, actor, and activist.
Scott would probably hate that I called him an activist, but his actions are causing others to be moved to take action. He is an advocate for his fellow soldiers, his Afghanistan partner forces. He's a man of many talents, however, the thing I respect most about Scott Mann, and his family, is they are all never out of the fight. He is fighting a war of information and awareness to create a national conversation.
There is no man in America that saw John Wayne's 1968 movie The Green Beret's that did not want to wear the beret. There is a certain mystique about special operations, and operators, that captures the imagination of Americans, we venerate heroism, and in the special forces we offer ample opportunities to the operators to make themselves heroic. They take us up on the offer and then some. Many special operators have been on hundreds of missions. The most elite have gone into the gates of hell for strangers and come back with them alive, often at the cost of their own lives.
Many serve in combat gallantly with honor and live with scars. Some of the scars are physical including catastrophic injury, loss of limbs, traumatic brain injury, post traumatic stress. The come home from war physically whole but mentally they are still in the fight. They say that special forces are never out of the fight and that is true. Although they are never out of the fight in battle, the fight back home may be more challenging. When your serving in the armed forces the first thing you learn is that you are part of a team effort, when you go so far as to qualify as a special forces operator you have a self contained team that is capable of operating as a small self contained unit, each operator serving a specific role, many cross trained in numerous roles for redundancy of capability. We think of these men as heroes and treat them as such (as we should) however they are not supermen they are ordinary men doing extraordinary things.
"De Oppresso Liber" the motto of the green beret, traditionally believed to mean "to free from oppression" or "to liberate the oppressed" in abbreviation in English "DOL". Alongside the CIA, they were the first Americans on the ground in Afghanistan as the first strike back in the Global War on Terror, only one month after 9/11. The green beret's were used extensively in Afghanistan and they were deeply invested in cultivating trust in the indigenous population's partner forces, and the people of Afghanistan. In doing so many lived inside villages with the people implementing a COIN (Counterinsurgency) strategy. Discussed in the excerpt below.
A Strategy of Tactics: Population – centric COIN And the Army
By Gian P. Gentile December 29, 2009
https://www.army.mil/article/32362/a_strategy_of_tactics_population_centric_coin_and_the_army
"Population-centric counterinsurgency (COIN) has become the American Army's new way of war. The principles and ideas that emerged out of the Army's counterinsurgency field manual (FM), FM 3-24, published in late 2006, have become transcendent.

The field manual has moved beyond simple Army doctrine for countering insurgencies to become the defining characteristic of the Army's new way of war.

In the American Army today, everyone is a counterinsurgent. It is easy to find examples of FM 3-24's permeating effect in other Army doctrinal manuals such as FM 3-0, Operations, and FM 3-07, Stability Operations. Lieutenant General William B. Caldwell, IV, the American Army general charged with writing the Army's doctrine, recently stated:

The future is not one of major battles and engagements fought by armies on battlefields devoid of population; instead, the course of conflict will be decided by forces operating among the people of the world. Here, the margin of victory will be measured in far different terms than the wars of our past. The allegiance, trust, and confidence of populations will be the final arbiters of success.

The idea of populations as the prize in war, that they are the focus, is drawn directly from the pages of FM 3-24.2″

US ARMY – COIN Strategy
The fact is that the special forces have had an outsized role in war fighting. As the years went on and administrations, and milatary leadership changed, so to did foreign policy and strategy.
Many special forces operators have lived with and worked with the indigenous people and the partner forces of Afghanistan.
According to the Institute for the Study of War
Afghanistan National Army consisted of the following
https://www.understandingwar.org/afghanistan-national-army-ana
"The Afghan National Army (ANA) is divided into five combat Corps. The Corps function as regional commands and are deployed throughout the country. In addition to the 201st Corps in Kabul, the 203rd Corps is based in Gardez; the 205th Corps is based in Kandahar; the 207th Corps is based in Herat; the 209th Corps is based in Mazar-e-Sharif. The kandak, or battalion, of 600 troops is the basic unit of the ANA.  Most kandaks are infantry units. As of April 2009, there were roughly 80,000 soldiers in the ANA."

US Army Publication
---
For a long period of time in man milatary actions we fought, shoulder-to-shoulder with and for Afghans. Deep personal bonds were formed with our counterparts in the ANA, special forces stood up commandos in Afghanistan and those men in some cases gave their lives for our men as did our special forces for them. The fact the war stretched over two decades had many soldiers and special forces serve multiple terms.
War is a rapacious creditor and it take more than it give and it takes everything, life, limb and liberty, war should be the last resort because nothing is created in war, war destroys, the fellowship of soldiers and support of the people create unity, and through a unified effort, reconstruction and restoration is possible. However in the case of Afghanistan the war for hearts and minds was not as easy to win as we thought.
Responsibility and Oversight
COIN (Counter Insurgency) strategy is something that takes time. If you operate an Army in a place with a dedicated insurgent force, Army doctrine estimates a counter insurgency may take twenty years to overcome. In the case of Afghanistan, Pakistan offered the Taliban a safe haven inside their borders, it offered the Taliban time to plan, reequip, and prepare for a counteroffensive. When the Doha agreement was signed in 2020 is set out a plan for withdraw.
https://www.state.gov/wp-content/uploads/2020/02/Agreement-For-Bringing-Peace-to-Afghanistan-02.29.20.pdf
This plan outlined a strategy for the country to be turned over to the Taliban, a peaceful withdraw from the country and certain guarantees the Taliban were bound to. The central aspect being security for the withdrawing American forces and an agreement not to punish the members of the Afghan National Army (ANA). Very quickly that agreement and the permission it granted for the Taliban to enter the country was used as the cover for a massive counter offensive that swept rapidly across the country. The terms of the agreement were not honored and the regular army forces were not able or willing to repulse the Taliban. The lack of resistance to their advance rapidly changed an orderly withdraw to what we saw on the news during the retrograde withdraw. A hasty departure, loading Americans and Afghans on planes and flying out of the country. The problem is that the speed of advance was not conducive to withdrawing our partners. Many were left behind as was a massive amount of equipment.
As we left behind our equipment, we also left behind many of the men and women who had been our: guides, interpreters, soldiers, intelligence officers and special forces. In the case of some of these partners they were able to board a plane and escape our common enemy. Soldiers, most especially special forces operators like the green beret's had suffered a serious moral injury. That of a soldier in a war that ends without warning and leaves them wondering, was this worth it. Many had suffered injury from war, post traumatic stress, traumatic brain injury, physical wounds, and deeply disturbing feelings and images they returned home with. The hidden scars of war are sometimes the ones you die from at home. Many of our soldiers who have shouldered the burden and horror of war are faced with the fact that everything they had promised their friends was erased with the stroke of a pen.
Agreement for Bringing Peace to Afghanistan
between Islamic Emirate of Afghanistan (Taliban) and the United States of America
February 29, 2020
A comprehensive peace agreement in four parts:

Guarantees and enforcement mechanisms that will prevent the use of the soil of Afghanistan by
any group or individual against the security of the United States and its allies.
Guarantees, enforcement mechanisms, and announcement of a timeline for the withdrawal of
all foreign forces from Afghanistan.
After the announcement of guarantees for a complete withdrawal of foreign forces and timeline
in the presence of international witnesses, and guarantees and the announcement in the presence
of international witnesses that Afghan soil will not be used against the security of the United
States and its allies, the Islamic Emirate of Afghanistan which is not recognized by the United
States as a state and is known as the Taliban will start intra-Afghan negotiations with Afghan
sides on March 10, 2020, which corresponds to Rajab 15, 1441 on the Hijri Lunar calendar and
Hoot 20, 1398 on the Hijri Solar calendar.
A permanent and comprehensive ceasefire will be an item on the agenda of the intra-Afghan
dialogue and negotiations. The participants of intra-Afghan negotiations will discuss the date
and modalities of a permanent and comprehensive ceasefire, including joint implementation
mechanisms, which will be announced along with the completion and agreement over the future
political roadmap of Afghanistan.

Doha Agreement Signed 3/10/2020
The Doha agreement called for a timeline spanning nine and a half months, freed 5,000 prisoners, and offered a guarantee from the United States and our coalition partners not to interfere or intercede in Afghanistan. That agreement was not honored by the Taliban, why are we sitting idle here debating. People are dying in Afghanistan right now, this is the cost of this war to our partners. Their lives are at risk, and they have placed their trust in us to save them.
Why aren't we?
(Below Timeline from Guardian Below for reference)
Timeline: Taliban's sweeping offensive in Afghanistan
The fall of Kabul to the Taliban caps off a swift military campaign as US-led foreign forces pulled out of the country
Agence France-PresseSun 15 Aug 2021 20.01 EDT
The Taliban have entered Afghanistan's capital Kabul and taken over the presidential palace, capping a sweeping military campaign as US-led foreign forces pull out of the country.
The Taliban Offensive Timeline
May
In early May, NATO begins a final withdrawal of its mission in Afghanistan involving 9,600 soldiers – 2,500 of them American.
Intense fighting soon breaks out between the Taliban and government forces in the southern province of Helmand.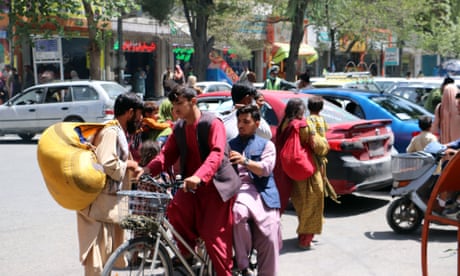 A bomb blast outside a girls' school on 8 May in Kabul kills 85, mostly pupils.
The deadliest attack in a year is blamed on the Taliban, though they do not claim it.
US forces withdraw from one of Afghanistan's largest airbases in Kandahar, the country's second-biggest city, in mid-May.
The insurgents then seize districts in Wardak province near Kabul, and in the key province of Ghazni, which straddles roads connecting the capital to Kandahar.
June
By mid-June they have captured several districts in northern provinces, forcing military retreats.
The Taliban take control of the main Shir Khan Bandar border crossing with Tajikistan on 22 June, prompting the Central Asian country to check the combat readiness of its armed forces.
July
Officials on 2 July announce the departure of all American and NATO troops from Bagram, Afghanistan's biggest airbase, which served as the linchpin of US-led operations in the country for two decades.
Two days later, the Taliban seize the key district of Panjwai in Kandahar, the insurgents' birthplace and former bastion.
The Taliban announce the capture of Islam Qala, Afghanistan's biggest border crossing with Iran, on 9 July.
On 14 July, the insurgents take control of the Spin Boldak border crossing with Pakistan, a major trade route between the two countries.
The Taliban offensive escalates sharply with a new focus on urban centers as the insurgents attack the cities of Lashkar Gah, Kandahar and Herat.
The United States and Britain say the Taliban may have committed war crimes, accusing the insurgents of "massacring civilians" in the town of Spin Boldak.
August
Tuesday 3: Eight people are killed in a coordinated Taliban-claimed bomb and gun attack targeting the Afghan defense minister and several lawmakers in Kabul.
Friday 6: The Taliban shoot dead the head of the Afghan government's media information center at a mosque in the capital. They also capture their first Afghan provincial capital, the city of Zaranj in southwestern Nimroz, "without a fight".
Monday 9: The northern city of Kunduz follows on Sunday 8 August and Monday 9th, along with Sheberghan, Sar-e-Pul, Taloqan, Aibak and Farah. In what becomes a familiar pattern, fighters reportedly swept into Aibak without meeting any resistance.
The deputy chief of Samangan province confirmed that the local governor had withdrawn his soldiers in order to protect the civilian population.
Despite the bloodshed and sweeping advances, US president Joe Biden gives no suggestion he will delay the troop withdrawal, which is to be completed by 31 August, ahead of the 20th anniversary of the 9/11 attacks.
Wednesday 11: With the key besieged northern city of Mazar-i-Sharif the next Taliban target, Afghan president Ashraf Ghani flies up to rally his forces.
But his visit is overshadowed by the surrender of hundreds of Afghan soldiers in nearby Kunduz and the overnight capture of a ninth provincial capital, Faizabad. Pul-e-Khumri, 140km north of Kabul, also falls.
The US military warns that the whole of Afghanistan could fall "within 90 days".
Thursday 12: The Taliban capture Ghazni, 150km (90 miles) south-west of Kabul. Herat in the west falls the same day.
Friday 13: Kandahar, the southern city which saw a lot of fighting in the 20-year war, falls, followed by and Lashkar Gah.
Saturday 14: Asadabad and Gardez follow on Saturday along with Mazar-i-Sharif, which Ghani had visited just three days earlier.
Sunday 15: The eastern city of Jalalabad is taken over by the insurgents early in the morning Sunday, leaving Kabul the only remaining major Afghan city still under government control.
Ghani flees the country, reportedly to Tajikistan, and the Taliban enter the capital, eventually taking position in the presidential palace. In a statement, Ghani admits the insurgents have "won".
Imperative for National Unity
In the wake of the calamitous retrograde withdrawal there are a tremendous number of people who have suffered a terrible grievance. In many cases the injures are literal and moral, physical and mental. This suffering comes with all war, but the extraordinary circumstances that surrounded the Global War on Terror created a serious crisis. There are many people who suffered the loss of the friends and comrades and the loss seems senseless in the wake of the Taliban take over. There are efforts in congress at oversight and in many cases there is talk of finding the responsible parties for the mistakes made. Although I agree that oversight is necessary the fact that the war is not over in Afghanistan for former members of the ANA and especially the most elite leads me to conclude all our efforts at this time should be directed to saving lives. If we do not act soon many of the most dedicated and highly trained partners of America in the GWOT (Global War on Terror) may be killed. Even if they are not captured, tortured or killed, poverty may kill the weakest members of their families, elderly, and children.
THESE ARE THE FACTS
We did not successfully evacuate our partner forces, an need to do so.
Doha Agreement was not honored by Taliban, and they are targeting former members of the ANA.
The most elite, highly trained forces: intelligence, targeting, special forces, are now prime targets for revenge killings.
The Taliban is carrying out targeted, revenge killings, actively hunting members of the ANA (especially commandos).
Upon capture the Taliban often torture and kill our former partners.
Fear of reprisal is creating a situation known collaborators of the US are not able to safely work.
The process to issue a US Visa is lengthy, and complex, and often very difficult for a non-native speaker.
You cannot legally travel outside Afghanistan without a visa, so our partners must wait a long time to get one.
If former soldiers or special forces leave Afghanistan to flee the violence, they are arrested and returned to the Taliban.
If these former ANA members are returned to the Taliban, or found by the Taliban, they are frequently tortured or killed.
The great number of people fleeing Afghanistan, created a major humanitarian crisis for those who have to wait at home.
If you must stay in Afghanistan and wait for a visa and your cannot work due to violence your family suffers poverty.
Soldiers in hiding since the fall are running out of resources and time, we must act.
If we do not prioritize the most at risk soldiers, and partners, in Afghanistan many of them will die.
The Afghan Adjustment Act provides for shortfalls created by the fall of Afghanistan.
If this bill is passed it will help increase the speed and efficiency of visa processing
We need to supply families with humanitarian supplies immediately to avoid a humanitarian crisis.
As Colin Powell said of the first gulf war "you break it you buy it" – We broke it – time now to pay for our mistakes.
If we turn and run from this problem, debate and assign blame, and do not pass this bill – many people will die.
If we do not accept responsibility for our mistakes it is likely to negatively impact recruitment at home.
If we refuse to honor the most basic tenant of war "Never leaving men behind" we are compounding moral injury.
If we do not honor our promise to partner forces around the world we are not likely in the future to find cooperation.
Departure from Afghanistan
Morning of the Fall
Loading people on planes
Retrograde Evacuation
The cost of war is high but,
human life priceless.
We must rise to the moment,
meeting it as our best selves.
We must insist our elected leadership, does the same.
After the Fall
The war has cost many lives some of the best and brightest young warriors have been lost, special forces have suffered disproportionately in America and in Afghanistan. We must honor the gallantry and the valor of these brave men who gave their last full measure for the fellow soldiers.
In one case I can think of an interpreter threw himself in front of a suicide bomber saving his American counterparts. In another story an Afghan Commando during an assult what shot multiple times in the chest (bullets hitting his plate carrier with bullet proof plates) he did not stop his assult, he continued to his objective and stayed in the fight to protect his comrades from America and Afghanistan.
Our partners believed in us, saw a glimpse of representative government and civil order they had not enjoyed, saw young girls in school and women in the workforce, The Taliban would like to reverse all the advancements that Afghanistan enjoyed for two decades.
Those freedoms were proof that the way of life in America was one that afforded all people opportunity and treated people with dignity. We cannot throw those two decades away, and with them the many great sacrifices that American and Afghan forces fought so hard for.
Afghanistan Much Needed Legislation
There is legislation in front of congress that has many provisions that can right some of the wrong that has been done. That takes responsibility and creates an opportunity to help more people, more quickly and that will save lives. This vote represents lives, for every day we wait more people die. Those deaths are not our responsibility however taking immediate action is and we must. In light of the fact that President Biden has extended the permission to work
Motivate Leadership
I think our elected leaders are motivated to act, the congressional testimony was heartfelt and moving, but the wheels of justice turn slowly, they may need our help greasing the gears to motivate corrective actions. Call your congressmen, and senators, visit their offices. Ask them to vote yes on the Afghan Adjustment Act, but insist they do something now to support Afghans! Create a safe haven for our dedicated partners in Afghanistan to find shelter before it is too late.
Why Americans Should Care
The fact is, this is not the end of a movie, where the hero walks off with an orphan, despite his terrible personal loss, he redeems himself and keeps his fallen comrades promise, to care for the oppressed. In real life, real hero's, like Scott Mann, and many others, did not have any opportunity to save the people they came to know, and to love, as brothers-in-arms and comrades in war. They were pulled out of the country before they could get them out. In the case of Scott Mann and his friends, dedicated veterans they refused to accept that nothing could be done and successfully evacuated a huge number of people in "Operation Pineapple, which you can read about in Scott Mann's book of the same name, shown here.
Personal Responsibility
The fact of the matter is, mistakes were made, not by one man, or one nation, one religion, or one group, but by many. There were mistakes made over four presidencies, changes in milatary leadership, war plans, the Doha Agreement was created, and never honored. We did cut and run to save face, and to make sure Taliban leaders could not claim victory.
Regardless of these mistakes the war is not over.
The Taliban is still killing their enemies. We can do something now and create a present that ensures our future will be brighter, or we can do nothing, and watch, as our enemy acts with impunity, killing innocent civilians, and former members of the ANA. We can fix the issues with visa processing and support humanitarian aid or we can do nothing allowing the process to take so long many will die, either at the hands of the enemy or by the hands of poverty and degradation.
We can do what we chose. My advice to you is chose to help. If you can volunteer choose one of the many foundations, organizations, or institutions that are set up to support humanitarian aid in Afghanistan. Insist your elected officials lives up to his or her oath. Do not accept a politician whom who choses to play at culture wars to win elections while "Rome Burns". My fellow Americans we are the the greatest country on earth, the most wealthy, the most powerful and the most just. If we live up to our traditions and history we will come through this terrible time as victors.
If we chose to do nothing and we cannot get young people to join the milatary in sufficient numbers, or cannot find willing partners in future wars, whom should we blame, the Taliban? Is it the Taliban 's responsibility to tell Americans to insist on justice, on fairness? Is it there responsibility to make America live up to our high standards, and take our role as a global superpower seriously. Or is it our President's, our Congress, our Senate, and our citizens who makes those things happen. Folks we are the greatest counry in the world we better start to act like it.
Take Action Today!
Look up your elected officials in congress and in the senate, contact their office and ask them to vote yes on the Afghan Adjustment Act legislation (H.R.8685 – Afghan Adjustment Act) https://www.congress.gov/bill/117th-congress/house-bill/8685.
Insist we do what we know we must, what we know is right, insist our leaders take action immediately. Our partners cannot wait on our debate about responsibility, and who's at fault – they do not have the luxury of time. Oversight is absolutely necessary, and finding the responsible parties very important, if we don't want to repeat this terrible mistake in the future.
Past is prologue, what happened yesterday points to what may happen tomorrow. Lets be our best selves put partisan differences aside for a change and concentrate on things we can cooperate on and do together now, so that history records our actions. History will remember, what we chose in this case. Think about the consequences and chose wisely. God Bless You and God Bless the United States of America, land of the free, home of the brave!
by Andrew J Walker